Spring Fling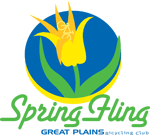 Your bicycle has been pining away in the basement or garage all winter. So dust it off, pump up the tires, and join your cycling friends for the Great Plains Bicycling Club's Spring Fling!
Spring Fling 2018 will be held Saturday May 5, beginning at 9:00 am.
The course follows a route on paved roads between Eagle and Louisville, Nebraska, with rides up to a metric century (approximately 60 miles).
You can start either in Eagle or Louisville. There will be fixed SAG stations at each start/end point and in Murdock (approximately the half-way point of the full route), and roving SAG vehicles will patrol the route. Be sure to designate your starting point when registering. This will also be where any T-shirt or Combo T-Shirt/Bike Cap orders will be waiting for you.
The Eagle start location will be Eagle Elementary School, 600 South 1st Street. The Louisville start location will be at Louisville Public Schools, 202 W. 3rd Street. Registration the day of the ride will begin at 8:30 AM.
Online Pre-registration (lower price) ends April 9th.
Early online registrations will be accepted through midnight Monday, April 9th. Online registration offers discounted member and nonmember ride fees. Ride T-shirt and the Combo T-shirt/Bike Cap orders are only available during pre-registration.
Mailed-in Pre-registrations (lower price) must be postmarked by April 8.
Mailed in pre-registrations also have a discounted ride fee but only at the non-member rate, even for club members. T-shirts and the Combo T-shirt/Bike Cap are only available during pre-registration. Mailed registration forms must be post-marked by April 8.
Click this link to download the fillable PDF Pre-registration Form. Complete the form and mail by April 8th.
Ride Day Registration
You can also register on the day of the event at either start point beginning at 8:30 am. If registering the day of event you can speed up your check-in by downloading and completing the
fillable PDF Registration Form, signing it and bringing it with you to the event.
Bike Caps will be available for sale the day of the ride, but T-shirts will not be sold.
The ride route is shown below and can be downloaded as a PDF File.
Water for this event is provided courtesy of Culligan Lincoln.
Route Map in Google Maps