GPBC Jerseys
A Limited Number of Jerseys Remain
Although the club is not taking new orders, we do have a limited number of GPBC jerseys (the ones with the Nebraska State Capitol Building graphics) and Heatstroke 100 jerseys available on a first come first served basis for immediate delivery from our inventory. 
To see what is available or place an order, click on the relevant "Select options" buttons at the End of this Page to See the Available Inventory for all Jersey styles.
These will make great Christmas presents.
Don't miss these!
Our jerseys are manufactured in the USA by Crave Cycling. We have received great reviews for their fit, feel and durability.
Here's the graphics for the GPBC jersey, limited amounts available in two different color combinations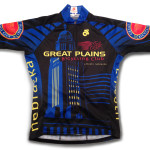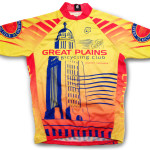 …and Here's the graphics for the Heatstroke jersey, limited amounts available
Here's the information on the jerseys.
The full-color jersey is made with 100% micro denier yarns / SPF35 (wicking), has three pockets on the back with either 3/4 length or full length hidden zipper, and are manufactured in the Raglan style, with sleeves or without.  For further descriptions of the sizes and cuts please refer to Crave's FAQ Page, which also has a link to their sizing chart.
Jerseys with ¾ length zippers sell for $65.00 + Sales Tax each; full length zippers price is $68.00 + Sales Tax each. Delivery Terms are FOB Lincoln, Nebraska.
Place your order online below.  Questions? – gpbcjerseys@gmail.com
---