Home
Sharing the Joy of Recreational Cycling
The Great Plains Bicycling Club is Lincoln, Nebraska's recreational bicycling club. We organize rides in and around Lincoln, promote cycling and bicycle safety, and much more. We welcome all recreational riders to join us on our rides and in our other activities.

We want this to be a website that people in Lincoln and Nebraska can rely upon for information about recreational cycling. We want to know of any Nebraska-area rides that aren't in our listings. If you are aware of a recreational ride that is not listed, please contact the webmaster and provide a description and other details.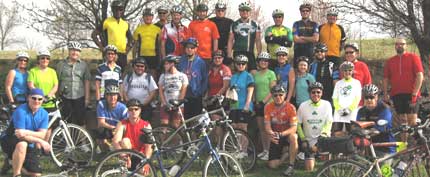 Bike to Work Week – May 14 through 18
Bike to Work Week Events include the following:
Friday, May 11 – Kickoff Event, 7:30 to 9 a.m., Method Cycles and Craft House, 416 South 11th Street. Participants can enjoy specials on coffee and pastries and pick up "Bike Bingo" cards to be played during the week. Information will also be shared about upcoming bicycle events and Lincoln's new bike share program, BikeLNK.
Friday May 18 – Wrap-up Event, 4:30 to 6 p.m. Method Cycles and Craft House. "Bike Bingo" prizes, which include BikeLNK passes and gift certificates to local bike shops, will be awarded. Happy Hour specials will also be available.
May is National Bike Month
To celebrate National Bike Month in May, the Lincoln-Lancaster County Health Department invites area cyclists to start pedaling to help Lincoln three-peat as National Bike Challenge champions. The 2018 National Bike Challenge began May 1 and runs through September 30. To participate, sign up at lovetoride.net. In 2017, Lincoln won the Challenge for the third time in five years. Previous wins were in 2016 and 2013. Last year, 899 Lincoln riders logged 704,502 miles.