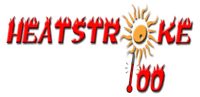 Hot and humid in August? You bet! But Nebraska cyclists have endured the heat and pedaled in scorching sun time and time again. What better way to beat the heat than to ride in the Heatstroke 100 — if you dare! (Just be sure to take advantage of the SAG stops along the way!)
The 2023 Heatstroke 100 ride was held Sunday August 27th. The page below describes that ride.
Heatstroke Road Routes
Our Heatstroke 100 road routes are the same for 2023 as last year, and again utilize the scenic Lied Platte River Bridge on two of the three loops. You can download a PDF file of the map of the road routes below.
Download the 2023 Heatstroke road route map (PDF).
The road route consists of three loops (24, 35, and 38 miles), each starting and ending at the museum. You can ride one, two, or all three loops (in any order). Ride day registration starts at 7:00 am, and the ride starts at 7:30 am. The course will close at 5:30 pm (so our volunteers can get home at a decent hour after a long day!).
Water and snacks will be available at three SAG stops along the road routes and at the SAC Museum. Roving SAG support will also be provided.
The trail connecting the Lied Bridge to Hwy 31 on the north side of the river is about a quarter mile of limestone surface (freshly reconstructed to repair flood damage). The four-mile stretch of Hwy 31 (Loop 3) from the north Lied Bridge trailhead to Hwy 50 parallels the MoPac Trail. Riders are welcome to use either the highway or the trail on this stretch.
Road Route Loops on Ride with GPS website
Below are links to the road route loops at the Ride with GPS website. Press the Send to Device button to download the map to your smartphone or supported GPS device.
Road Route GPX Files
Use the links below to download GPX files for each Heatstroke road loop for your GPS device or phone.
Heatstroke Gravel Route for 2023
If you want to get closer to the corn and the cows, we have a gravel route starting and ending at the same location as the road routes (SAC Museum) and including all of the road route SAG stops. The total distance is around 54 miles and includes gravel roads, a section of the MoPac Trail including the Lied Bridge across the Platte River, and some short highway sections needed to connect everything.
Map of 2022 Gravel Route as PDF
Link to online map of gravel route at Ride with GPS. Press the Send to Device button to download the map to your smartphone or supported GPS device.