Home
Sharing the Joy of Recreational Cycling
The Great Plains Bicycling Club is Lincoln, Nebraska's recreational bicycling club. We organize rides in and around Lincoln, promote cycling and bicycle safety, and much more. We welcome all recreational riders to join us on our rides and in our other activities.

We want this to be a website that people in Lincoln and Nebraska can rely upon for information about recreational cycling. We want to know of any Nebraska-area rides that aren't in our listings. If you are aware of a recreational ride that is not listed, please contact the webmaster and provide a description and other details.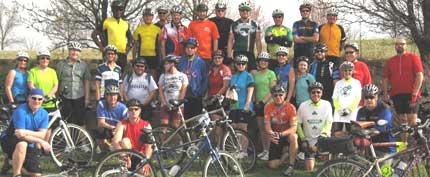 Spring Fling is Saturday May 7, 2016; Early Registration ends April 1
It seems we are having an early Spring this year, so you have ample time to prepare for Spring Fling, GPBC's first public ride of the year. We are trying a later start date this year in hopes of warmer weather. Rides of 30 and 60 miles are available, with starts at either Eagle or Louisville, Nebraska. Early registration (T-shirt and lower registration price) ends on April 1. For more information see the Spring Fling web page.
N Street Cycle Track Grand Opening Celebration
A series of events will be held Saturday, April 23, 2016 to celebrate the official opening of the N Street Cycle Track (aka Bikeway). The events begin at 10:00 am with individual and group rides to Elliott Elementary School at the east end of the bikeway. Festivities begin at Elliott at 10:30 and include a ribbon-cutting ceremony. At 11:00 am there will be a group ride along the bikeway to the Haymarket at festivities at the CUBE in the Railyard. For more information see:
N Street Bikeway web page on the Lincoln city website and
N Street Celebration page on the GPTN website.