Home
Sharing the Joy of Recreational Cycling
The Great Plains Bicycling Club is Lincoln, Nebraska's recreational bicycling club. We organize rides in and around Lincoln, promote cycling and bicycle safety, and much more. We welcome all recreational riders to join us on our rides and in our other activities.

We want this to be a website that people in Lincoln and Nebraska can rely upon for information about recreational cycling. We want to know of any Nebraska-area rides that aren't in our listings. If you are aware of a recreational ride that is not listed, please contact the webmaster and provide a description and other details.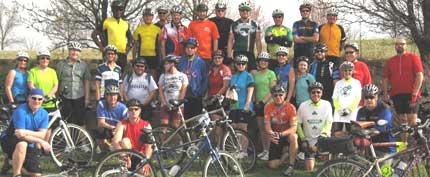 Great Plains Bicycling Club Holiday Party
6:00 p.m., Friday, December 8
Old Chicago, 826 P Street, Lincoln
Join your fellow cyclists for salad, pizza buffet, bacon cheddar mac and ONE FREE drink ticket (drinks on you after the first one, good for a domestic beer, wine, or soda.) Water is free. We will be playing a few games throughout the evening concluding with a raffle drawing. We have about $200 worth of prizes to give away! This event is free as long as you are an official member of the GPBC.
If you wish to participate in the gift exchange, please bring a nice ~$20 gift (no white elephant or joke gifts, please).
Please RSVP by December 5 to courtneyweeda@gmail.com. We need to know if you plan on coming so we can order accordingly. You don't want to miss this Christmas Party!