Home
Sharing the Joy of Recreational Cycling
The Great Plains Bicycling Club is Lincoln, Nebraska's recreational bicycling club. We organize rides in and around Lincoln, promote cycling and bicycle safety, and much more. We welcome all recreational riders to join us on our rides and in our other activities.

We want this to be a website that people in Lincoln and Nebraska can rely upon for information about recreational cycling. We want to know of any Nebraska-area rides that aren't in our listings. If you are aware of a recreational ride that is not listed, please contact the webmaster and provide a description and other details.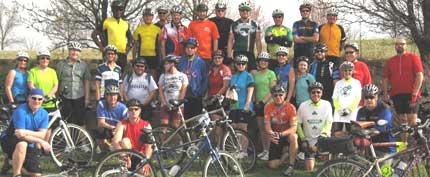 Heatstroke 100 Ride August 28th
Great Plains Bicycling Club will host the 12th Annual Heatstroke 100 Ride on Sunday August 28th. The ride will follow the same route as in recent years, consisting of loops starting and ending at the Strategic Air Command and Aerospace Museum east of Ashland. The routes explore the scenic Platte River Valley and adjacent uplands between Louisville and Ceresco. Registration starts at 7:00 am, with the ride starting at 7:30. Registration fees prior to August 1 are $25 for an individual, $50 for a family. For on-line registration and further details, go to our Heatstroke 100 web page.
Firecracker Ride
Thanks to the 160 cyclists who got up early on a cool and overcast July 4th morning for the Firecracker Ride. Riders came from as far away as Omaha, Bellevue, Papillion, Fort Calhoun, Syracuse, Beatrice, Fairbury, Columbus, Grand Island, Cozad, and Kearney. Despite a headwind on the way back to Seward, you were in good spirits! We hope some of you also enjoyed the July 4th festivities in Seward after the ride.
Ride of Silence
Thanks to the 60 or so cyclists who participated in this year's Ride of Silence in Lincoln to honor cyclists who have been killed or injured while cycling on public streets. Thanks also to KLKN TV and to the Lincoln Journal Star for covering the event.