Home
Sharing the Joy of Recreational Cycling
The Great Plains Bicycling Club is Lincoln, Nebraska's recreational bicycling club. We organize rides in and around Lincoln, promote cycling and bicycle safety, and much more. We welcome all recreational riders to join us on our rides and in our other activities.

We want this to be a website that people in Lincoln and Nebraska can rely upon for information about recreational cycling. We want to know of any Nebraska-area rides that aren't in our listings. If you are aware of a recreational ride that is not listed, please contact the webmaster and provide a description and other details.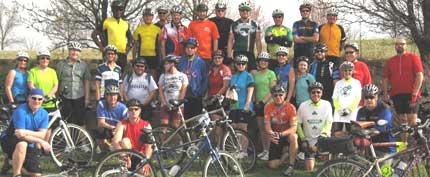 Open House for Jamaica North Trail Reconstruction
The public is invited to an open house Wednesday, September 14 to review the plans and the schedule for the Jamaica North Trail reconstruction project. The meeting is from 6 to 7:30 p.m. at the Walt Branch Library, 6701 S. 14th. Informal presentations will be given at 6:15 and 7 p.m., and staff from the Parks and Recreation Department and Olsson Associates will be available to answer questions.
During the several months of construction cyclists and walkers are being asked to stay off the Jamaica North Trail between Pioneers and Saltillo. The presence of heavy equipment being used to repair this stretch will make it dangerous for cyclists and walkers. The trailhead at Saltillo Road is also being used as a staging area for the construction equipment. By staying off this portion of the trail and out of the Saltillo trailhead we can help move the project along in a timely manner and get this route reopened as quickly as possible.
There is a newly revamped trailhead just north of Roca Road near the village of Roca where people can park to access the Homestead trail.