Home
Sharing the Joy of Recreational Cycling
The Great Plains Bicycling Club is Lincoln, Nebraska's recreational bicycling club. We organize rides in and around Lincoln, promote cycling and bicycle safety, and much more. We welcome all recreational riders to join us on our rides and in our other activities.

We want this to be a website that people in Lincoln and Nebraska can rely upon for information about recreational cycling. We want to know of any Nebraska-area rides that aren't in our listings. If you are aware of a recreational ride that is not listed, please contact the webmaster and provide a description and other details.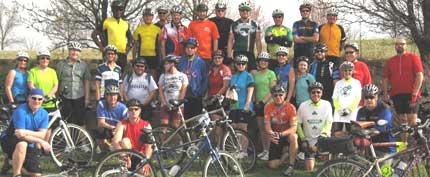 Club Holiday Party Friday December 9, 6:00 pm
The GPBC Holiday Party will be held Friday December 9th starting at 6:00 pm at the Southwood Clubhouse, 5000 Tipperary Trail.Lynette Boyce will play piano for entertainment while we are gathering. There will, as in years past, be a gift exchange–limit $15–no gag gifts, please. Tina's Catering will provide the delicious meal. BYOB.