Home
Sharing the Joy of Recreational Cycling
The Great Plains Bicycling Club is Lincoln, Nebraska's recreational bicycling club. We organize rides in and around Lincoln, promote cycling and bicycle safety, and much more. We welcome all recreational riders to join us on our rides and in our other activities.

We want this to be a website that people in Lincoln and Nebraska can rely upon for information about recreational cycling. We want to know of any Nebraska-area rides that aren't in our listings. If you are aware of a recreational ride that is not listed, please contact the webmaster and provide a description and other details.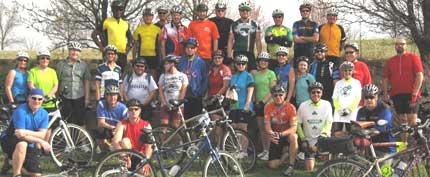 Heatstroke 100 Registration Now Open!
On-line registration for the Heatstroke 100 is now open and will be available until midnight August 19th, providing price discounts for early registration. Check the new routes for 2017 and complete your registration on our Heatstroke 100 web page.
Eclipse Ride on the Homestead Trail, Monday August 21st
Escape the city and experience a once-in-a-lifetime event with an unmatched view. Join the Great Plains Trails Network and the Great Plains Bicycling Club for a unique trek on the Homestead Trail south of Lincoln. There are multiple rides to choose from, starting and ending at Roca Berry Farm (16351 S. 38th St, Roca, NE), one of the best spots from which to observe this amazing event. Rides with distances of 12, 21, and 40 miles are available. Start times depend on the tour you choose. Plan to return to Roca Berry Farm for lunch which will be served from 11:30 a.m. to 12:40 p.m. Check-in begins at 7:30 a.m. Registration fee is $15. For more information and registration click here.
Nebraska 150 Sock Challenge
The Great Plains Bike Club is proud to announce the Nebraska 150 Sock Challenge.  In honor of Nebraska's 150th birthday, the club has created bicycle socks featuring the club logo on one side and "NE 150" on the other.  GPBC members who ride 150 miles on Great Plains Bike Club rides (club and public) in 2017 can earn a pair of these socks.  The supply is limited and the socks will be arriving soon, so make sure your membership is up to date, and start keeping track of your miles now!
For further information contact Edie Matteson at dnstrans@gmail.com