Home
Sharing the Joy of Recreational Cycling
The Great Plains Bicycling Club is Lincoln, Nebraska's recreational bicycling club. We organize rides in and around Lincoln, promote cycling and bicycle safety, and much more. We welcome all recreational riders to join us on our rides and in our other activities.

We want this to be a website that people in Lincoln and Nebraska can rely upon for information about recreational cycling. We want to know of any Nebraska-area rides that aren't in our listings. If you are aware of a recreational ride that is not listed, please contact the webmaster and provide a description and other details.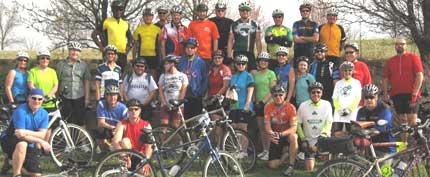 Bike to Work Week May 13 to May 20
The City of Lincoln is partnering with the local bicycling community to encourage residents to participate in Bike to Work Week, May 13 through 20.
Those who commit to riding to work at least one day during the week can receive a free reusable bag full of information and coupons (while supplies last) and will be entered in a drawing for prizes. Bicyclists are encouraged to complete pledge sheets prior to the event. Pledge sheets are available at Cycle Works, 27th and Vine, and the Bike Rack, 3321 Pioneers Blvd. BicycLincoln will give registered riders stickers for their helmets or bikes and a list of other businesses offering discounts to participants during the week.
Bikers are strongly encouraged to wear helmets. The City also reminds residents that it is illegal to ride a bike on sidewalks in downtown and other congested districts. For more information, visit lincoln.ne.gov (keyword: bike) or contact Mike Heyl, Public Health Educator, Lincoln-Lancaster County Health Dept., at mheyl@lincoln.ne.gov or 402-441-3889.
A week-end celebration is planned at the Jayne Snyder Trail Center in Union Plaza on Friday, May 20, 4 to 6 pm.
Ride of Silence
Thanks to the 60 or so cyclists who participated in this year's Ride of Silence in Lincoln to honor cyclists who have been killed or injured while cycling on public streets. Thanks also to KLKN TV and to the Lincoln Journal Star for covering the event.
Spring Fling a Great Success
Thanks to the more than 200 riders who came out in wonderful weather for this year's Spring Fling on May 7th. And an even bigger thank you to all of the volunteers who handled planning, registration, supply purchasing, SAG support, and signage. Without you these events would not be possible.