Home
Sharing the Joy of Recreational Cycling
The Great Plains Bicycling Club is Lincoln, Nebraska's recreational bicycling club. We organize rides in and around Lincoln, promote cycling and bicycle safety, and much more. We welcome all recreational riders to join us on our rides and in our other activities.

We want this to be a website that people in Lincoln and Nebraska can rely upon for information about recreational cycling. We want to know of any Nebraska-area rides that aren't in our listings. If you are aware of a recreational ride that is not listed, please contact the webmaster and provide a description and other details.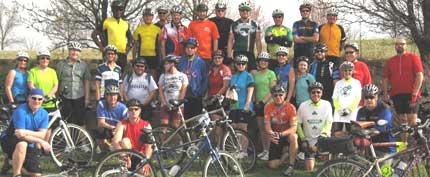 Lincoln Finishes First in National Bike Challenge!
Congratulations to 901 Lincoln cyclists who accumulated 234,988 miles by the end of September to power Lincoln to the top of the Cities category in the 2017 National Bike Challenge!
Nebraska finished 5th among states, with 1526 riders logging 364,267 miles.
Great Plains Bicycling Club Annual Meeting
6:30 p.m., Thursday, November 16
Lazlo's South at 5900 Old Cheney Rd, Lincoln, NE 68516
The club has some important business to conduct and accomplishments to celebrate. Join your fellow GPBC members for some great food and camraderie.
Election of the 2018 Board of Directors
Vote on Proposed Change in ByLaws
Year End Report
Cost of the meal is $10 per person, payable by cash or check to GPBC at the door.
The cost of your alcoholic or non-alcoholic drink(s) will be your responsibility to pay directly to your server. The club will provide appetizers, meal cost above your $10 and the room guarantee.
Everyone must pre-order their meal choice by November 6th.
Lazlo burger with sweet potato fries
Veggie wrap with sweet potato fries
Rainbow chicken + rice + green beans
RSVP to Edie Matteson with your meal choice by November 6th. Meeting room limit is 42.