Home
The Great Plains Bicycling Club is Lincoln, Nebraska's recreational bicycling club. We organize rides in and around Lincoln, promote cycling and bicycle safety, publish a newsletter, and much more. We welcome all recreational riders to join us on our rides and in our other activities.

We want this to be a website that people in Lincoln and Nebraska can rely upon for information about recreational cycling. We want to know of any Nebraska-area rides that aren't in our listings. If you are aware of a recreational ride that is not listed, please contact the webmaster and provide a description and other details.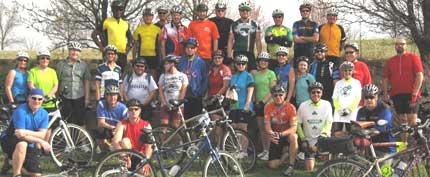 Heatstroke 100 Ride Sun. Aug 30th
This year's Heatstroke 100 (August 30th) is fast approaching, so we hope you are getting in shape for a century ride. However, expect something different this year! Highway construction in the Ashland – Louisville area has forced us to redesign the route. Check out the Heatstroke 100 page for the map for the new route! Heatstroke will again offer three loops, each starting and ending at the Strategic Air and Space Museum east of Ashland on Highway 66. The loops can be combined for distances up to 102 miles (a Century and a bit).
Jim Johnston Memorial Bike Ride, August 23rd in Elkhorn
This ride is in memory of Jim Johnston, Millard West High School teacher and athletic trainer, who was tragically killed on his bicycle in March 2014. This fully supported ride beginning in Elkhorn is a 40 miler with a 16 mile option. A silent start will be dedicated to those who have lost their lives or have been injured as a vulnerable road user. Start is at Ta-Ha-Zouka Park, Elkhorn, Nebraska. Registration 7:00 AM. Silent Start 8:00 am. Cost $25 ($35 after August 17th). For more details see the Other Area Rides page.
The Jim Johnston Memorial Bike Ride would be proud to honor the lives of those killed in cycling related traffic crashes with our Memorial Miles dedication. We will create a large printed board for each honored cyclist that includes a photo, their birth/death dates, and a personal message of your choice. The boards will be displayed on the day of the ride. Download the Dedication Form.