Home
Sharing the Joy of Recreational Cycling
The Great Plains Bicycling Club is Lincoln, Nebraska's recreational bicycling club. We organize rides in and around Lincoln, promote cycling and bicycle safety, and much more. We welcome all recreational riders to join us on our rides and in our other activities.

We want this to be a website that people in Lincoln and Nebraska can rely upon for information about recreational cycling. We want to know of any Nebraska-area rides that aren't in our listings. If you are aware of a recreational ride that is not listed, please contact the webmaster and provide a description and other details.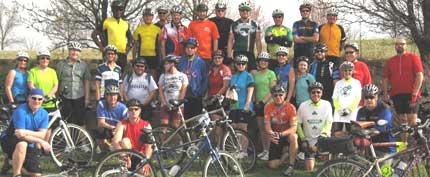 St. Patrick's Day Ride
10:30 a.m., Saturday, March 17
This club favorite ride will meet at the Mo-Pac trailhead on 84th St. The ride will commence at 10:45 a.m. Ride to Eagle for lunch at Bailey's Local via the MoPac East trail or "O" Street (Hwy. 34). We will have games and raffles and a chance to win a free lunch at Bailey's. They have a special menu for us as well. About 22 miles round trip at a leprechaun's pace.