Heatstroke 100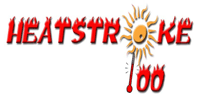 Hot and humid in August? You bet! But Nebraska cyclists have endured the heat and pedaled in scorching sun time and time again. What better way to beat the heat than to ride in the Heatstroke 100 — if you dare! (Just be sure to take advantage of the SAG stops along the way!)
The 2018 Heatstroke 100 ride will be Sunday August 26th beginning at 7:30 am (registration begins at 7:00 am).
The ride will start at the same location as last year, at the Sesostris Shrine, 1050 Saltillo Road (located on the frontage road on the west side of Hwy 77 on the southwest edge of Lincoln). Due to road construction on Hwy 77, the routes and distances will be modified this year.
The 2018 Heatstroke will provide several road routes with distances between 38 and 100 miles. Road routes will be on shouldered and unshouldered roads between Sesostris Shrine, Crete, Wilber, Dorchester, and Milford. SAG stops and roving SAGs will be provided. All road routes include a ride to Crete and the intersection of Hwy 33/103 on the west side of town (to Crete via Sprague Road, return via Hwy 33).
39 mile route: to intersection of Hwy 33/103 on west side of Crete (SAG stop) and return
53 mile route: 39-mile route and west to Dorchester and return
60 mile route: 39-mile route and south to Wilber and return
75 mile route: 39-mile route, west to Dorchester, north to Milford, return south to Hwy 33 and Crete
Century route (103 miles): 39 mile route + Wilber out-back + Dorchester and Milford loop.
A gravel route that includes the SAG stops in being planned. Check back soon for maps of the new routes.
Heatstroke Registration:
On-line earlyl registration for the Heatstroke 100 including T-shirt orders ends at midnight August 4th, 2018.
Fees are discounted for early on-line registration. On-line late registration will be open until midnight of August 20th, 2018.
Fees
| | | | | |
| --- | --- | --- | --- | --- |
| | Member* | Nonmember | Member Family* | Nonmember Family |
| Early (by August 4th) | $20 | $25 | $40 | $50 |
| Late and Ride Day | $30 | $30 | $60 | $60 |
* Member pricing only available with early online registration.
Click the button below to register on-line. If you are a GPBC member and have not yet logged in, you will be asked to log-in before completing your registration.

You may also register early at discounted prices by downloading the Early Registration Form and submitting it by mail with your payment, postmarked no later than August 1st, 2018.
You may register on-site on the day of the ride at full registration prices.
Wicking T-Shirts and Club Caps Available with Heatstroke Registration
Wicking T-shirts are available for $14.00 with your Heatstroke registration. Snazzy bike caps with the club logo and colors are also available for purchase for $20 with your Heatstroke preregistration. Or purchase both T-shirt and cap for $28.00! T-shirts and caps must be picked up at the ride!. A limited number of caps may be available for purchase at registration on the day of the ride. Blue/black and yellow/red cap color schemes are available as shown below.